(PILATES PLAYLISTS BELOW)
Greer Stenberg

CLASSICALLY TRAINED PILATES INSTRUCTOR
(ROMANA'S PILATES TPNY)
MEET THE INSTRUCTORS
Brooke Tyler

PILATES TEACHER TRAINER, STUDIO OWNER (STUDIO CLASIQUE / ASHEVILLE, NC)
I first began seeing an acupuncturist as a teenager, seeking support for any bumps and bends in my path. It helped me realize the connection between my emotions and my physical body. The theory of Chinese medicine clicked with me from the start; this is a medicine I know to be true and effective. I continued to receive acupuncture care consistently. So, as a patient, acupuncture came into my life first.
Professionally, though, I started with Pilates. I love and participate in all kinds of sports and athletic events – basketball, cycling, running… So it was that I found myself in a Pilates session with my mom in Idaho in 2002, and I have never looked back. Much like acupuncture, it was love-at-first-experience. I immediately jumped into the teacher-training program with Dorothee VandeWalle in Seattle.
The more I practiced Pilates as an instructor, the more I began to see how my clients would benefit from the rich, healing tradition of Chinese medicine. So I went to graduate school to be trained in classical Chinese medicine. As a career path, becoming an acupuncturist meant offering even deeper healing and opportunities for growth. Chinese medicine and classical Pilates are two rich traditions of mindfulness, authenticity, strength, and a study on maintaining integrity in the face of change. They fit perfectly together.
In 2009 I decided it was time to open my own business, combining my two vocations into one business, one location, where I could create a unique healing opportunity for Asheville.
Creating is what inspires me – creating space, creating the feeling of being grounded and uplifted at the same time. Here, I love to create an acupuncture treatment experience that deeply nourishes and gently moves. Here, I love to create custom Pilates workouts that build awareness, strength, freedom and enhance your sense of self.
And here, I have created a space where the art of Pilates and the art of Chinese medicine are woven together so naturally that you are supported throughout your whole life as the whole person you are.
I truly believe that we are better together. Being a part of team is what I know and love best. Since early childhood I played on various team sports. When I was co-captain of my college basketball team, I learned about being a leader, experienced struggle and success, and felt the joy of connecting with teammates. So as Clasique has evolved, the team has grown. I'm so proud of my team – they are all strong, talented professionals. And thanks to our teamwork and their skills, we are able to give back to the community and our clients exponentially.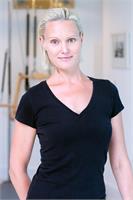 Greer Robertson Stenberg has an endless curiosity of the body. Her passion for movement began the first time she picked up a tennis raquet at the age of four. She continued through the years as a nationally ranked USTA tennis player which landed her a scholarship at Lake Forest College.
After suffering a severe shoulder injury she moved back to Portland ME and started taking Pilates with Nancy Etnier who study under Romana Kryzanowska. There Greer discovered the wisdom of Joseph Pilates who inspired her to dedicate herself completely to learn and teach the work.
Now after six years of which the last three were in NYC under the instruction of Sari Mejia Santo at True Pilates, Brie Adina Neff in Philadelphia, and Anthony Rabara of Princeton NJ, she finds herself in Miami inspired by her clients.